The figure of Primo Zanasi is secluded, lonely, with a different look than many others on what music is, first of all, and life, basically.
From the sweet hills of the province of Bologna, Italy, we found a good pretext to bring you to the world of Primo: Poco di Tutto, (literally: "a tidbit of everything", nda) his new instrumental album just released. It is available from the Bandcamp of the Emilian artist in digital format and on cassette in an ultra-limited edition, just thirty copies available, rigorously packaged by hand. Probably already sold out as we write. We think that the best way to talk to you about Primo Zanasi and his  "hiphopdubexperimentallooppism"  is to leave you with the uncut report of a long chat between Zanasi and Stromberg, in full StrettoBlaster style, for the young and the old.
---

I make music by running away from something, I don't know what, maybe routine or maybe inconvenience. While I do it, I never think about who will listen to it, and I forget all the patterns and rules I know. In order to get as close as possible to a non-ego that makes it up. – Pri Zan

---
Starting from the beginning, having to introduce yourself?
I am Federico, also known as Primo (my grandfather's name) Zanasi (my granma's last name). Call me what you like.
Ok, Primo is fine. But, Federico, since you're here, can you tell me how you started with music, please? Just to understand a bit more…
It is a bit strange the discomfort from which everything was born, but when I think about my attachment to music I blame a very specific event…I must have been six years old, I was sleeping in the room with my older brother then sixteen…I know it sounds crazy, but I heard my parents fucking once, and even if I already knew a little about the fact, because of the courtyard where I was playing with older kids, it shook me very badly to hear my parents making noises. I got into my older brother's bed and I told him: "Ricky, Ricky…mom does ha ha ha …what's happening?!"…oh gosh, I laugh my ass off even to this day…
As a result, starting from that very day on, I was going to sleep with a walkman and a tape, headphones on my ears, and I was listening really about everything. My brother had two old turntables, and he was mixing dance music dance, early Nineties acid-house and so on, you know? I also remember a tape of Snoop Dogg, rap recordings of Venerdì Rappa show on Radio DeeJay, and much more…every now and then I also mixed secretly from my brother with his turntables, he didn't want me to do it because I broke everything. Having said that, the years go by.
One day I was playing basketball at the playground, I was about eleven…I heard a drumset sound from a distance, I approached and it was a band playing country music. Moral: a friend of mine was the drummer's friend and I asked him to try it, then from there I stole my mother's pots and start hitting these, then for many years I play with friends, improvising, with no desire to do live shows or make records or whatever. We knew a lot of people, you know…we basically just play, no need to record, no "label" need to us, it was all just about the music.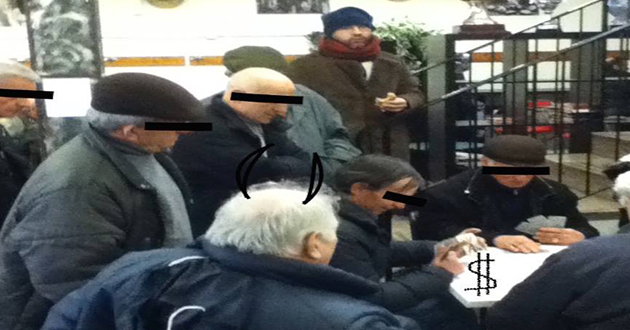 Then one day I was in a rehearsal room in my hometown, and I find my childhood friends with the rap cazzimma… 6 or 7 boys in a cipher who rapped their verses on some instrumentals…I saw great energy…that among those there was also a very young man Roi Alcocat rapping: amazing! From there I started to produce thinking about them.
First with the computer, and then I got passionate about the machines I fell in love with and continue to be. I always live the music as before, without thinking of any type of careerism, it is an escape for me, if I am well I do not play I enjoy life, but since I work against will every day I am not very well, and I play every day, there is sadness in my music and anger.
These two components brought me together with Dj Spass and Taiotoshi (famed Italian deejay and underground emcee, respectively, author's note), with them I share this taste for music that makes us cry. Taio and Spass saved my life, I was convinced that nobody appreciated my musical sadness, many of those around me told me that the music was too sad and paranoid. What should I say?
It comes to me like this, I struggle to do anything else. I make music by running away from something, I don't know what, maybe routine or maybe inconvenience. While I do it, I never think about who will listen to it, and I forget all the patterns and rules I know. In order to get as close as possible to a non-ego that makes it up.
How Poco di Tutto, your latest instrumental album/cassette tape, was born?
My tape is the skimming of over 100 beats. I have a machine that is a separate 4 track loop station that holds 100 beats once the memory is filled. I kept my favorites and let them out. Gennaro (DJ Spass, nda) says that I've kept the ugliest ones… obviously, he jokes!
But he says it because there were many darker ones inside the loop station, which I have discarded, and which he prefers to the ones I put out. I didn't feel like going out too dark and melancholy, that's why Taio thinks about rapping on my sadness …it's not the right time to go dark for me, I have a 16-month-old baby in good health, how could I be in a dark mood? 🙂
I am a drummer of musical training, I have always played for pure fun, staying as far as possible from stages and formulas or schemes. When I started with hip hop instruments I always felt the lack of that improvisational slice that traditional acoustic instruments give you. I managed to find it in the loop station and so I "invented" a kind of way to make beats. I hope my tape sounds different from the globalization that surrounds us and I hope it conveys my person as much as possible, which is a bit what Madlib managed to do with his music.
When I listened to Quasimoto's album and his beats, I was convinced that if I had known him I would have had many common visions with him. Actually, I can't say it but reading the few interviews that are available, I think I was not wrong. If your music makes you perceive that you are a good person, it means that you can put a piece of your soul into it. His work illuminated me, his spontaneity, breaking the rules, I really loved him…When he came to play in Rome for the Dissonanze festival, I went to hear him with the Jackson Conti project. I broke through security to bring him a spliff while he was doing the final set …hahaha…love is love…
Anything else? what do you want to tell me about the so-called beats scene? A lot of useless biters, isn't it?
We are pissed at those who "copy" because they have great energy and possibilities but do not exploit them. Unfortunately, they make us feel imitations of things already out there. I mean, we're sorry, we don't hate them, we just think they are assholes… what do you think? Then honestly I don't follow beat-making a lot, I really listen to everything but I'm more interested in the history of the music of other cultures around the world, rather than other beatmakers.
Lately, I've been listening to a lot of Indonesian music called gamelan, it's a good deal that I would like to do an instrumental project with samples of this kind only, inside there are beautiful things. In general, in the history of music there have always been founders, people who brought a sound or a style that has become classic over the years, I can think of the sound of Coltrane's classic quartet, Bitches Brew by Miles Davis, they are sounds that have opened up worlds and ways of playing. In the instrumental world of hip-hop, we know well who has given and gives much of the inspiration to many: one should be able to take the spirit of these masters and make it their own.
We don't think there is much to add. You too can listen to Poco di Tutto, and maybe you can tell us how you feel about it.