From Ventreianca to GSQ to Francesco Fisotti: the roots of Italian boogie funk from Apulia.
Francesco Fisotti, better known by his long-time moniker GSQ, has been producing highly refined beats and music since the early 2000s. In the past ten years or so, he has become one of the most fluent and influential figures for the Italian underground music scene, a sort of "best-kept secret" of modern Italian music.
Despite the fact that he's localized in a somehow remote area for the Italian and international musical geography (the beautiful Apulia, in far SouthEast Italy), this musician/producer/professional ice-cream maker has built a humongous legacy of authentic vibes. No wonder then if he has recently gained some international recognition for his taste in music and beat-making skills, thanks to his last year's opus E La Chiamano Estate, under the moniker of Marcello Sanzio.
With a specific focus on archive music and digging in the crates, Francesco has started his career as a raggamuffin deejay, back in 1998. He has since brought the Apulian rap and raggamuffin upbringing into his own evolution, opening his ears and heart to the power of music.
From library music to broken-beat, exploring hip-hop and deep house too, Fisotti genuinely loves the groovy things. But let's say that GSQ (pronounced "Geez-Coo", to be precise), as old friends call him, is just a larger-than-life personality. Entrepreneur, producer, deejay and self-taught instrumentalist/musician: it's a waste of time to put a label on his creative force. Hence, we won't do it.
An explosion of authentic Italian boogie-funk and disco music, Lido Sirena is Francesco's take on the Balearic sound, as exposed by other recent releases. It's immediately that we think of the likes of Naples' own 291out and Berlin-based Nu-Genea, until the rising stars from the Aura Safari group, just to give you some coordinates.
With the help of talented musicians and multi-instrumentalists from the Salento region, such as the young guitarist Emiliano Roca, the jazz keyboardist Andrea Rossetti, saxophonist Giovanni Chirico, percussionist Roberto Chiga, singer Miss Mykela on the vocals, Fisotti delivers a bouncy and delicate "Adriatic funk" mixture, a sparkling and joyous hymn to life, as the summer in Salento is.
To make things spicier for us today, we have an in-depth interview to learn more about Lido Sirena and its genesis, inspiration and whatnot. Enjoy, folks.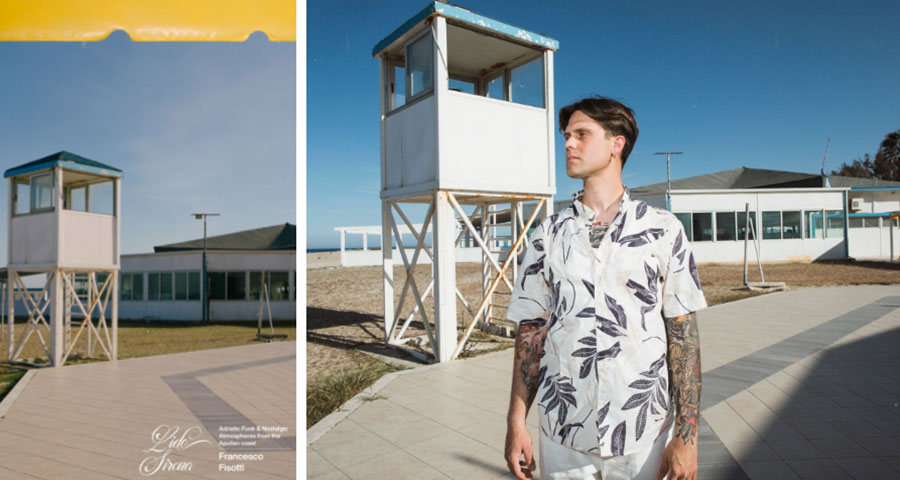 Ciao Francesco, welcome back to SB. Would you like to start from the beginning of your musical journey and introduce yourself, to our readers?
I was born in 1986 in Otranto, a small seaside town in Puglia. In the late 90s, I fell in love with hip-hop culture and with my peers, between cassette tapes, rap lyrics, breakdance and graffiti we spent our adolescence making a mess. In the meantime, I was also very attached to the local reggae and raggamuffin tradition, and growing up I trained artistically in the dance hall as a raggamuffin singer with the name Ventreianca.
From Ventreianca's days to Francesco Fisotti, you've got a long journey under your belt, across several genres of music. How would you describe it?
After years of sound systems, bands, concerts, dance halls, and recording sessions, I listened to Beat Konducta 1-2 by Madlib and Donuts by J Dilla, and suddenly I decided to stop singing and started making beats. "J Dilla Changed My Life" for real, man…
Over the years, as I kept buying records and making beats, I felt the need to detach myself from the usual sources of soul-funk sampling, and to contextualize that language in my own culture, so almost by chance, I discovered Demetrio Stratos, Il Balletto di Bronzo, Goblin, Francesco Di Giacomo, Perigeo, and I entered the vortex of Italian Prog-Rock.
Crazy samples and lots of unknown bands that had released one album in the 70s and then disbanded, and after 40 years those unknown gems have become a cult for many diggers. From there I went to look for European Prog and Jazz groups. SBB from Poland, Ekseption from Holland, the Germans Amon Düül, Buldožer from Slovenia, Gentle Giant from the UK, and so on.
Continuing my archaeological research of the perfect loop to flip, I entered the world of Italian 70s soundtracks, Library Music and ambient electronics. I fell in love with Piero Umiliani, Nora Orlandi, Stefano Torossi, Amedeo Tommasi, Sandro Brugnolini and all the great masters of the past.
In the meantime, I also collected 12" deep-house and when Yussef Kamaal's Black Focus came out I also started studying the UK Broken-Beat scene, and then Bugz in the Attic, Kaidi Tatham, Afronaught, 2000black. Another turning point in my research was Nu Guinea's "Nuova Napoli". After listening to that record, I was shocked and took back those jazz-funk records that I had put aside a bit (still one of my favourite records is Tropeau Bleu by Cortex) and I went on to collect 45s of Italian disco funk. Next step? Synth-pop, Grunge or Country? We'll see…
What's changed, looking in hindsight, and what has stayed the same?
My life has changed, I am 35 now. I have a business and employees. I worked a lot and I bought a house and a car, but I'm still trying to discover new music genres and improve my skills.
Are there any fundamental records from each one of these eras, you would like to be remembered for?
Klandestin Mixtape from 2006 is an underground classic, produced by DJ WP and sung by me as Ventreianca, my bro Boccia MC and lots of other fellas from Lecce.
The first Bluesteady Triptik album Awake Beats from 2010, I think it's the first or one of the very first Italian beat-tapes and, besides our inexperience, there is also strong creativity and great style.
Among the dozens of beat tapes that I have published on Bandcamp, perhaps The Strings is one of the most important, as it reminds me of a moment of strong spirituality.
For sure, the production work I did on the records of the rap group Float A Flow is one of the highest points of my career. From Another Future is strikingly heterogeneous in sound, while Resuscita I Morti is the first Italian rap album to be entirely sampled from Prog-Rock records. That's a Prog-rap album!
Marcello Sanzio is the funniest (and most illegal) record I've ever made. I hope I won't be sued at some point…My new album, Lido Sirena, represents another moment of change and evolution. I don't know where it will take me.
As one of the pioneers of the modern Italian beat scene, alongside your crew Bluesteady Triptik and on your own, how do you feel like the beat scene has evolved in the past decade or so?
These kids should try to be more original. They sound all the same lol…And of course, technology helps us produce music but guys let's continue buying records…
Coming to the main reason we're discussing today, your latest album titled Lido Sirena, would you like to talk a bit about its genesis?
Lido Sirena was born in Palazzo Gattini with my girlfriend, a lot of plants and my cats. I felt the need to talk about the reality I live in on a daily basis: the Mediterranean sea, the Apulian coasts, the love, a certain exoticism, and the summertime, for the most part of the year.
The choice to finally use my birth name was spontaneous. It is the first album where there are no samples, I programmed and played all the synthesizers and drums and then I arranged the songs with musicians. It is my first real album in every sense.
How would you like people to approach your new album? Can you guide us through the tracklist?
There are 6 tracks, including two dancing tunes, two dreamy songs, and two slow ballads. La Tartana takes its title from a restaurant in Castro where I used to go as a child with my family.
Fuecu Brucia is a song about the summer heat and the desire to dance. Fine Giugno wants to be a slow sequence from some of Jerry Calà's imaginary movies, Rustico Boogie is a hymn to the "rosticceria" (the deep-fried Apulian street food). Aria takes us back to the wild Apulian coast, paying homage to classic Italian pop singer Marcella Bella, and Night Vodka is a mystical moment, while you drive your car at night.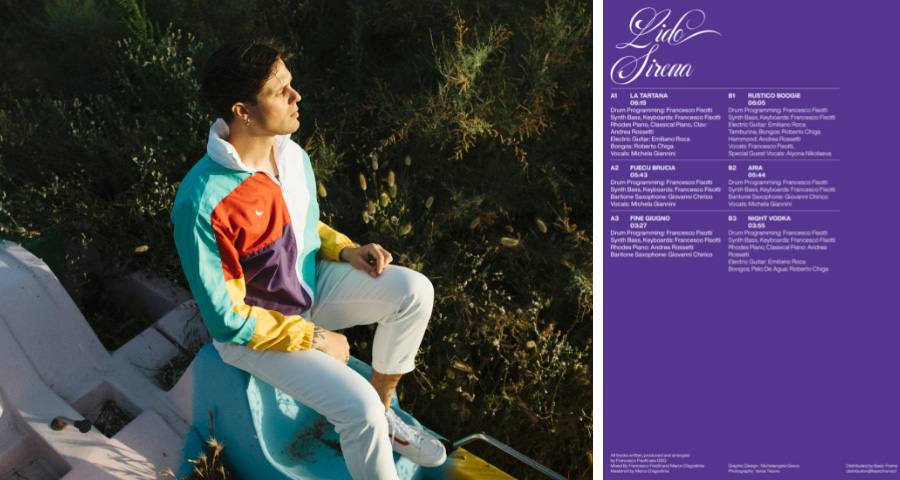 You listen to a lot of music, from different genres, and you still dig in the crates for your records. What kind of influences came to play while creating this record?
Patrice Rushen, Azymuth, Mtume, Mndsgn, Dam-Funk, Pino Daniele, Lonnie Liston Smith, George Duke, Gwen McRae, Marcella Bella, Pino D'Angiò, Byron the Aquarius, the guys from Periodica Records and Early Sounds Recordings, Apron Records, Favorite Recordings, Star Creature records. A lot, man.
This is a special one for all your Instagram followers, as you share a lot of your daily life on your Stories…how many Patokkia's green apricots it takes to make a kilo of creamy gelato?
I use 40-50% fruit in my ice creams, but in the case of Sergio Patokkia's green apricots, you cannot make miracles lol…