Dude, what's up with this Mangoweeda, son?
If you were vaguely interested in the possibilities that open to spinella grass smokers who eat mango when they are busted, maybe you should go ahead and read.
If then you were extremely intrigued by the fact that some of those smokers also go into fixed with dub and spatial sounds, we have what to satisfy your appetites. How? Simple.
Some time ago, from a galaxy near Genoa, Italy, a new, self-released and steaming (oops) disk arrived in the mail. Something that gravitates in the orbit of dub music but flirts with the club and electronics, hydroponic ganja, meditation, and exotic fruit in moments when the body requires sugar.
The author of all this is none else than Mangoweeda, and we can easily leave the word to him, to introduce you to New Global Experience, for YET Collective, the limited edition release on cassette and digital, which you find here.
Graceful excerpts from a cosmic chat between galaxies lined up on a Sunday morning for want of arcane forces come to you. Not necessarily what you would expect from a spatial conversation, but yes.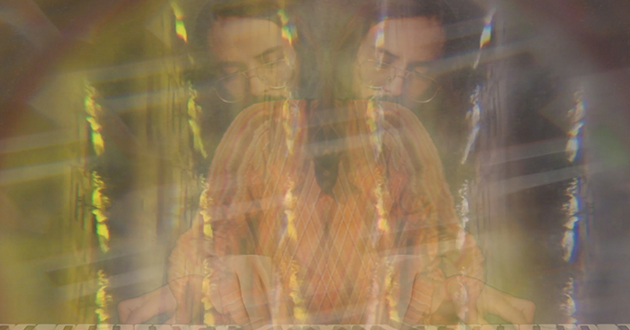 …if you wanted to describe your album to a person who had never heard it and didn't know you musically, what would you say?
New Global Experience is a heterogeneous disk, partially described by its very title. An album made relatively quickly, but that needed a long process on my part, both from the point of view of the research of the samples and from the point of view of the aesthetics of the sound.
I have been listening to dub for almost twenty years and in all this time I have always dreamed of one day being able to compose an album, and even more to develop an artistic project that was based on dub. The "problem" of this kind is to be able to grasp its essence, the characteristic features on a production level and then manage to rework them in a personal form.
When I started working on the Mangoweeda project I picked up a lot of past listeners, I studied different working methods than the ones I used previously and I circumscribed and collected the eight tracks that I considered mature at the right point, like for the fruits of nature.
Who were you inspired to compose the album? What are the working methods you refer to?
Many names, from giants of the genre like King Tubby, Lee Perry, and Prince Far I, passing through certain productions of Rihanna, traditional Berber, and Ethiopian music, from the Middle East to India.
As far as synths and construction level, my contaminations are certainly close to those of Brian DeGraw of Gang Gang Dance, as well as the modes of use, the arpeggiators, and the sometimes acid sounds. As working methods, I refer to the structuring of the architectures of a piece, or where to start. The riddim.
I prepared various riddim solutions which I then developed based on the samples used, modified and edited. Bass + drums and percussions as the starting point. The melodies and the rest came out accordingly.
I happen to have a melody in my head that comes out of a memory drawer, which I seem to have heard on some record. From there the hunt for the sample, trying to remember where I heard it. In parallel, I construct the piece rhythmically. Then the sample fits the rhythm, I stretch it, change the tone, add the effects. All done.
I listened to everything in its entirety and then again in chunks, and I had the impression that every fragment remains suspended between an intimate and a more club-oriented dimension. As a public and private dimension, together, and I think it's a good way to approach listening, instinctively.
I like your reading listening to the album. I had never thought about it consciously and lucidly, but that's exactly what you say: I wanted the record to have more club parts, but also more intimate and dreamlike parts.
Would you like to make a track-for-track of the album? An anecdote for each track?
Haha, okay! Innerself is the first-ever piece written as Mangoweeda, so I thought it was natural and right to use it as the first track on the disc. He's about a year and a half, and he's changed from the beginning.
It lasted eleven minutes, it had a very long ambient part towards the middle, but in the final phase, I decided to reduce for reasons of total playing time. In this case, there is not a real champion, but a Malian song, full bathella, which I had in an African music box that a friend of mine had recorded me a few years ago.
Chuyến Đi Astral instead was born and grew rapidly. I wanted a reggaeton beat, but I wanted the piece not to play reggaeton. After programming the main battery I recorded the bass line with a Yamaha CS10. Then I found the vocal sample I needed from a piece by Nabil Louhich, a very popular Tunisian melodic singer in the Maghreb. But I wanted a female voice that spoke of love.
And so I painted it and it became perfect. It seemed immediately a potential single. I love this piece because starting from reggaeton I ended up making a piece that for the pitch of the voice recalls India, for sound North Africa, with a title in Vietnamese.
Shaanti Pyaar Aur Sahaanubhooti, on the contrary, it is a song with a sample of an Indian wedding song, the voice was feminine, but it has been reworked to sound masculine with a reverse process of the piece that anticipates it on the record. The applause is mine, at times out of time to disrupt listening. Yes, I'm out of phase.
Cinta Universal is the most different piece from a compositional point of view. In fact, here I started from the sample, a traditional song from Sumatra. It speaks of universal love.
Protis (Laughin'Buddha). "Protis" is one of the nicknames of one of my cats, and it became the title of the song because during a listening session with my girlfriend it seemed to me that the sample, which is nothing more than a guitar riff made by me with the slide and effected, said "Protis". Which is not.
"Laughin 'Buddha" is instead the nickname of a strain that in reality is the Orange Buddha, but to me and to a friend of mine from Brno, Czech Republic, it seemed more correct to rename it "Laughin'". It is a very travel and psychedelic piece, one of my favourite on the record. The only one without a sample of something not registered by me.
Then you have Kupanda Na Kuangazia. A massive piece, predominant synths, and circular percussion. The sample is always taken from the cassette I told you before and comes from Burkina Faso.
Feral Mankind (King's Bread from the Blue Mountains of Jamaica) is my personal top 3. It came out right after Innerself, from a sample of a traditional Ethiopian song. It is perhaps the most dub piece in the traditional sense.
No Fight (Jamaican Lion) is originally from a pre-Mangoweeda era, in the beginning, it was a very different song. The only sample is that of a Jamaican sage man who explains precisely how one should not fight, there should be no injustice. Perhaps a rhetorical thread, but exactly what I feel like doing in this historical moment, as a clear and conclusive message on the record. And then I love the patois. And the Jamaican Lion.
What does the pre-Mangoweeda look like?
The pre-Mangoweeda is partly its present (Japanese Gum), but what I was referring to with "No Fight" for example, is Fofy, a project that lasted for a couple of years and is currently sidelined.
I have always thought of musical projects as life projects. You create the conditions to develop an idea (which for me is 90% aesthetic sound) with the best tools you have to express it. I have always hated bands or artists who have been repeating the same beautiful record for years.
What can you tell me about the "journey" theme? Intended as a place of the soul, as well as cultural pollination with "worlds" far from ours: it seems to be a strong element of your research.
I love change, I love questioning myself. Maybe that's why I will never live off music: I get bored to do the same thing for years in the same way just because it works in terms of public response. It makes no sense for me to carry it forward.
So I like to do things in a certain way, as long as I have something to say that way, and often that matches the idea of sound: when I get to outline what is a given sound change. Everything has its beginning and its end, I think it is responsible in 2016 to avoid saturating the ether with discs that already exist in a more spontaneous version, made previously by the artist himself.
In absolute tranquillity, smoothly, find the preview of the disc below.
The galaxy loves you, don't hurt yourself, come on.