DJ Rico Herrera: soulful percussions bringing up new tales.
A secret is a secret as long as it's well kept over time and nobody really knows about it. In our case, a few selected people already know about the quiet genius known as DJ Rico Herrera. However, as he's not as famous or renowned as he should, in our humble opinion, so he's still a kind of incredible secret to (way too) many.
Born and bred in the shade of the leaning tower of Pisa, Italy, the deejay/producer began his journey into the music lands in the Nineties, at a very young age, falling in love with Hip-Hop to find his own way into turntablism and deejaying.
After years of practising his craft secluded in his room, our groovy gentleman started making a name for himself as a young battle deejay around 2YK. His early claim to fame, however, is as one-third of the seminal Italian deejays' outfit I Maniaci Dei Dischi, where he earned his way into the music business. Let's properly introduce the man, and shed some light, then.
Hip-Hop business, gigs, and crate-digging: two turntables and a way of life.
With the I Maniaci Dei Dischi project, Rico and his bandmates toured the whole Italian country and made also some European gigs, then after that Herrera went back solo, learning the music production art the hard way. Many moons, record digging sessions, and years later, the infinite hours of work laid out on his Akai MPC led his music to travel faster than his name.
He got productions flowing back and forth the Atlantic, putting together countless indie joints for U.S. based outfits as well as local rappers, recording with different artists as an audio engineer, becoming also an event promoter and road manager for indie acts and deejays. Music has been Rico's life for a long time now.
There are many projects to put to your attention. Among those, for sure his instrumental album Mode One-Forty-Four and Buongiorno EP (where he also handles the mic duties, in a well-versed way), other than egregious duets with Neapolitan rapper Dope One, or with our sponsor FFiume, just to give you some.
From the break-beats era to the days of the Cuts: enter the House years and beyond.
Despite his fluent Hip-Hop production skills and boom-bap-infused track record, with influences from Madlib, Jay Dee, Diamond D, and all the major golden age producers, music has always had no boundaries to Rico Herrera. Hence, it was no surprise that, after years of flirting with different sounds on the downtempo realm of things, in 2017 Herrera dropped his first uptempo tracks on the House tip.
Taking a break from the underground Hip-Hop scene and sound, he went on for long listening and production sessions, melting his Akai MPC 3000 for hours. That's how Cuts came up: the digital-only single was released through Rico's own imprint Medicine Music. The research for the perfect groove has then touched new heights.
This was just the beginning of a slew of soulful and dope releases spanning over the past few years. Getting in the roster of the Italian-based Roots Underground label has been the subsequent move, to achieve some international recognition, and still be a secret home.
It is no coincidence that three years after the seminal and appreciated Uno EP, Rico Herrera returns on the Roots Underground label to launch a new series of 7″ releases called Excursions, produced by Herrera himself and made special by collaborations with other artists from the Italian and international scene.
In the first volume, freshly released, the wonderful voice of the Scottish singer Jane Hamilton, of Sonar Kollektiv's and Sound Signature's fame, met Herrera's intricate sound texture, and the delicate keyboards' touch of Filippo Guerrieri, for a tune called Favourite Dream.
I Love my Pork Pie Hat, on the other side, is just an ode to the most authentic and genuine New York Garage sound, with an incredible jazz flavour. The track is the combination of Lorenzo Morresi's guitar with a vibrant Rico's beat, full of percussions and thunderous accents.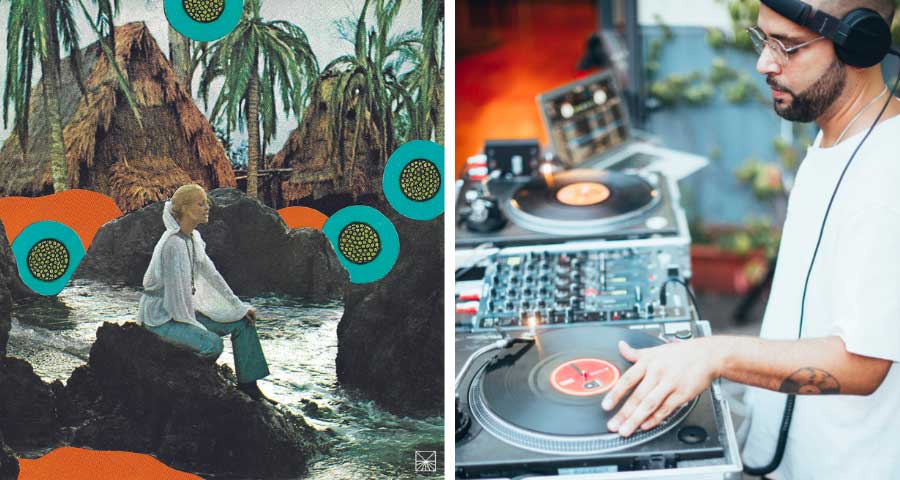 Meet the Dj, producer, Wallabees champ, Kuchi rings lover: enter Rico Herrera's soul world.
As you can imagine, the occasion is too crunchy to avoid bringing you the Italian underground maestro Rico Herrera, his subtle and soulful jazzy-infused house sound and, most importantly, his Production Specs for dopeness insights. Enjoy the reading, and if you have any further questions for Rico, hit him up via social media.
Welcome Rico, let's start with a classic one: what's your first commercial beat sold or placed?
I don't remember exactly, possibly my first real placement was a skit on the double LP from I Maniaci Dei Dischi, a deejay band from Italy I was part of, probably 2003. I was the youngest and the craziest. My wild 20 years, man…
How long did it take you to produce something that you were proud of?
I've started making music as a deejay using pedals and turntables, recording hand-made loops on a Tascam four tracks to scratch on them. Only after a few years, I've got myself into proper beat-making, as I copped my first Akai MPC2000XL from pioneering NYC/Florence legend Dre Love.
Back then it was way very different, the learning curve was steep, you didn't have YouTube tutorials to grasp from. But I was always proud of my little shit, as I am now, even though I'm always finessing and fine-tuning my stuff, so I study all the time, listening to a lot of different music and playing all day.
What is your favourite production setup to this day? 
Akai MPC 3000, Fender Rhodes MarkII, Moog Voyager synth, Technics turntables & lots of records, all geared up with Pro-Tools for digital treatment and Fireface as a soundboard. At the moment, I also often use the Akai MPC Live II. It's an incredible tool, you can record and make the chops while recording. For a sample-based producer like me, it's extremely useful and intuitive. I love it.
Do you still dig in the crates for records? 
Always and forever, all day every day. In the past 10 years, I have dug a lot on the web, but I've never forgotten record stores and how we did it back in the 90s. Now I'm really into Black Jazz Records, and modal jazz albums, in general, as these are a big influence on my music production.
Best digging advice from someone ever?
That's not an easy one, dude…I've received plenty of tips, mostly from fellow deejays and heavy diggers. The last one I met was Mr Thing, a very nice and humble guy, he gave some very good advice about some obscure labels and rare grooves, and 7 inches. As far as I can tell, when it comes to digging in the crates, just let yourself be inspired by the cover of the record, look at the liner notes and check the members of the band, the titles, there's no limit.
Any interesting or weird digging stories?
Many years ago, I went to buy records by weight, as it was fruits and vegetables, an insane amount at ridiculous prices. I remember the whole experience was crazy. This guy was a nice gentleman, he asked me to fill the crate and put it on the weight scale. Good old days…
Is there any producer, in the last 3 months, that made you say: "Oh, shit, I have to go back to the lab!"?
Yes, this happens very often, as I dig a lot of new and old stuff, Hip Hop, House, broken beat, jazz or funk…The other day I was listening to the new 12" from Theo Parrish and I told myself…"DAMN THIS SHIT IS RIDICULOUS!!!".
I am always looking for inspiration,  try to change my point of view every time and do new things. Listening to music is the first thing I do to make music.
Your worst production mistake ever made?
Nothing so serious, but every time I think something had to be done better.
One essential mixing tip?
Before EQing or working on the compressor, just work on the volume and balance of your composition. Use those faders, kids.
Want to say something else?
Be inspired, be yourself and spread love to the world.
I got a new 7" out with Jane Hamilton, Lorenzo Morresi and my man Filippo Guerrieri, it's called "Excursions Vol. 1" go check it!