No shiny suits allowed, let's cut it to the chase, alright?
Back on the grind to dissect and investigate the magical world of hip hop fashion, with all its myths and mistakes, or disasters, I have thought of an easy target for this time.
If there has ever been an easy target for this column, this is putting on "shiny suits", the dazzling suits of the Bad Boy golden period, the very same ones that your average My Little Pony would call "mega-sparkling". And this would be enough to close the discussion.
I mean, dissed by a Minipony…'nough said.
And with good reason: the shiny suits represent everything that was wrong in that particular historical period, between 1996 and 2001, circa. Shitty music (word to Santino), shitty imagery, shitty attitude.
The origin of a bad (boy) era: the rising signs.
The names won't be changed to protect the people responsible for such a fashion disaster. We're talking of course about Hype Williams, the most-requested video maker for Hip-Hop and R&B superstars in his own era, and, mostly, her associate and stylist June Ambrose, one of the key figures in the urban fashion industry for the Nineties and TwoThousands.
The early signs of this tremendous shiny disease came around 1996 when the fish-eyed aesthetics and colour corrections of Hype Williams met Busta Rhymes' flamboyant style, first.
Things were still bearable then, but in the end they got worse (this was in 1997). For real. Busta came to a glossier style and successful videos (think of Dangerous) while the whole industry was about to witness the definitive rise to stardom of Puff Daddy, Jay Z, and Missy Elliott.
Blunders, many blunders (pun intended): a Caribbean Carnival inspiration.
The story, according to June Ambrose herself, is that she came up with the idea of designing these new costumes of "shiny leather" for Puff Daddy and Ma$e, at first, to match Hype's flamboyant style of shooting.
Since the Caribbean Carnival and its colourful gadgets were the primary inspiration that led June to design such attires, we can easily say that the target of being "loud" was completely hit. Hands down.
After a brilliant debut in the video of Mo Money Mo Problems, we can easily say that 1997 was all a florilegium ([||]), up to the golden suits of Mase and the Lox (!) in the remix of Honey by Mariah Carey.
Someone had even thought that something good could come out of Harlem…But instead, we had to wait until Smoke DZA and A$AP Rocky and, on different levels, Immortal Technique, in order not to disrespect that borough.
But I digress.
I was saying: the sparkling shiny suits. We're not even sure about the purity of the materials they were made of, but certainly not hardcore acetate, which has always been synonymous with an aspiration to realness.
A mix of weird vinyl, PVC, and leather, with such a rough cut, made the skinny onesies of the Treacherous Three and The Furious Five look like evening dresses. Oh, and let's not forget about Missy Elliott, sure.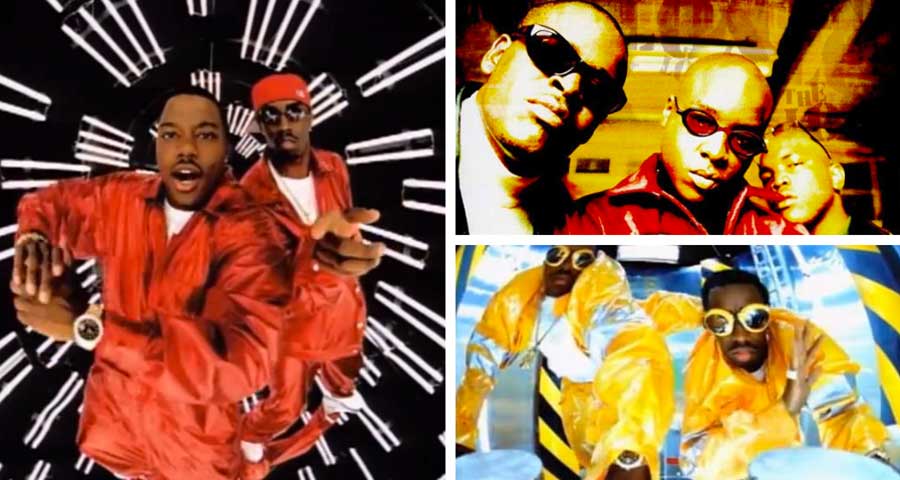 The Bad Boy shiny suits era wasn't all glitters and gold, sorry.
The golden age of the Bad Boy can be debated at length (I am going to play it straight here: for me, it is simply questionable, in general), but one thing is certain:
even if the musical part, by digging hard, shows some merits (despite biting almost elevated to an "art": in a sense, it all started from there…);
even if the videos of Hype Williams, in their ostentatious grandeur, still show some points of interest;
even if the character of Puffy had not yet proved his true nature to the world,
it is undeniable that Ma$e, Loon, G-Dep and Black Rob, led by Diddy in a bright suit, have an arsenic enema aesthetic. Deadlier than deadly.
No wonder that The LOX left the label to go solo after a short stint under Puffy's management, now wonder that G-Dep lost totally whichever appeal and mic steez he had, and so on and on.
Anyway, flamboyant blue, bright red, and amazingly yellow suits dominated the videos for a period that seems too long in retrospect, from the point of view of any "fashion" blunder.
Too bad that the "serious" rapper par excellence of the Bad Boy stable, The Notorious B.I.G., has never worn shiny suits.
Apart from the size issue (which hasn't stopped him from putting on flashy things like the Hypnotize shirts, and the now-infamous Coogi sweaters, which would be worth returning to), there has to be a reason… right?