The rise of a pure soul with a global feeling for the dope sound: introducing Odeeno.
Everyone says beat scenes, for a while now. And if you're down with us, you know. And you have been listening to beats, for a long time, and in the sea magnum of current electronic instrumental music you hear many, many and you have very few left of many. Then one day by chance you meet Vincenzo, and Vincenzo sounds fresh, naive, and genuine, he sounds like Odeeno, and you say yes, ok, but who is ODEENO?
A little while I thought about it, I called Vincenzo and I asked him for you. Twice. The first time we heard from him, back in 2014, was when he created Moodlines, the exclusive mix for StrettoBlaster that I am attaching here.
At that time Vincenzo was busy promoting one of his very first beat tapes, Eghtiness, written just like that, but he found time for me and for you, because he's one of us, after all.
Today, Vincenzo called Odeeno has come a long way, and with his latest release "Closfeeling" adds a new piece to the catalog of the emerging Italian independent label Resilienza Records.
Headed and founded in 2018 by our friend U.Nico (aka Nico P, if some might remember him this way), the label is working its way into the beat-making scene by producing, pressing, and delivering limited-edition music cassettes independently.
Odeeno's Closfeeling is the seventeenth release for the label, which describes it as "(…) a celebration of the efforts and perseverance that we always put in what we love (…)". We have relaunched Odeeno and updated the very first interview with him, adding some more. Enjoy the reading.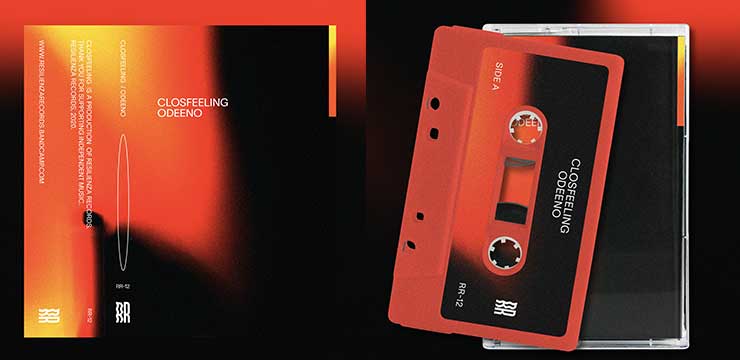 Classic, easy start: ready? Go, presentation!
Odeeno is a boy who lives in the northern province of Naples, precisely in Arzano, I don't know how to describe myself well, the only thing I really know is that I'm the classic guy who lets off steam with beats.
How would you describe in ten precise words your past few years, since we first met in 2014?
Satisfied, mature, in love, aware, constant, prolific, Neapolitan (how not to be?), romantic, distracted, crazy.
How did you approach music first?
I approached the beats in 2008, meeting friends like OohGi, Dario Bassolino, Skarraphone, people who introduced me to this culture in a playful way, almost like a godson, I started playing with Reason and FL Studio, I auditioned, and the turning point was born listening to Jaylib in 2009.
From there I started to deepen a certain type of sound and rightly to broaden my knowledge, listening to artists like Knxwledge, Mndsgn, Prefuse73, Sixtoo, to name a couple and other things like that. From here I started to develop a certain knowledge and to have "understandings" that are constantly growing.
How are your compositions born? You already have substantial production, even if you have been producing for a relatively short time. How can you be so prolific, where does it come from?
In my view, the beat comes from a need to express my emotional state, as an outlet that comes from the first thought of the day to the last.
Every beat of mine is a story, and I can't really explain how these stories are born, but I'm sure they are straight, born from the center of the stomach, and this thing of playing "on the go" leads me to be very prolific. I feel emotions every day, good or bad they are, and at that moment taken by "Joy" or "Sadness", the first thing is to compose.
What we can expect from your latest offering? Would you like to tell us how did you come up with?
Since the last time we talked, I changed, I grew up, and this album, "Closfeeling", was born after a series of experiences, which have marked me, a lot. People who usually listen and manage to empathize with me and my music will surely understand that there is something dark and hidden behind the notes of the samples that I played and used.
The message that passes through the atmosphere of the record is a climate of abandonment and closure, something significant, an experience that I'm sure many of you could reflect on.
In recent years I have produced many records, many of them released with foreign labels, but this one was born here in Italy, with Resilienza Records, and with them, I had a great time right away. I described to them the whole story of how I came up with this record and yes, we created an intimate relationship right away. We immediately recognized each other, as we all share the same love for music.
Despite all, this album highlights a very dark chapter in my life, I came to the creation of this record by overthrowing my demons. I have always had a melancholy mood in my records and in fact I think this is perhaps the pinnacle of all this, I closed a fundamental chapter of my life, it marked the end of the worst period I ever lived.
After "Closfeeling", I will move on from jazz and I will be making more dance 80's oriented music. As we all know, life goes on and the necessity to express ourselves might take different paths but it will always stay.
There is a lot of attention today on the gray area between instrumental hip hop and electronic music…what do you think of the current beat scene, nationally and not?
I think there are different stories with very different characters, for me, some are to be taken as examples, like Biga, GSQ, Irhu, Emshi, HLMNSRA, Dario Bass, OohGì.
Over the years, the scene has evolved, the influences of musical genres have changed, now everything is running and changes are on the agenda. From my humble point of view, hip-hop also enters canons of electronic music, through samplers, drum machines, the famous 808s, but there are two things that divide the genres created with electronic instruments, and those are the groove and atmospheres of the beat.
The bases of hip-hop will forever remain Funk, Jazz, Soul, the sounds of the 80s, and this will perhaps never change because it is the origin of an era of a culture, of our people.
The Italian beat scene has grown a lot in the past years. Now I am no longer one of those few marginalized people (and you guys at StrettoBlaster know it well!).
The comeback of beat-making made with that "lo-fi" quality has created its own "genre", and in Italy, many beatmakers have come out like mushrooms. The most contemporary people I follow are OKHO, Lester Nowhere, Saito, J. Raise Jr, U.nico, Nema, Blkldg, Pelvo, and Mazinga Paddon, among many others.
Seeing all those people doing what I love fills my heart with joy, and the level seems to have risen quite a lot.
Regarding artists from abroad, I follow plenty of them and they have changed/improved too, touching various shades compared to the beginning. Artists like Mndsgn, have started singing and producing almost G-Funk based music.
I have to mention Knxwledge with his never-ending and continuous drop of tapes, definitely one of the most prolific out there, with his feel and likeness of a 90s mixtapes. The world of beats nowadays has a whole other face and is full of very strong beatmakers with various influences that are all connected to the roots of hip-hop at 360 degrees.
Provocation: Don't you often hear a lot of very similar stuff?
Basically, we do what we do, it is machine-produced music. Each has its own sounds, its own experience. And maybe no one really knows what he's doing.
You told me, for example, about the obsession with sequencing rhythms using triplets…It's the fashion of the moment, like when Miles talked about the fact that everyone said "swing" but no one had it…now there is also software that performs certain movements for you, on a compositional level.
Nobody asks the essential question: "who am I"? Who to put at the center of my self? I have come to this awareness and self-consciousness after years, and now at 29, I know that at the center of myself there is only me.
What have you prepared for us with Moodslines?
A fairly soft selection, my favorite mood is that old soul, in a much more electronic key, a mix of old and new seen by a series of overseas beatmakers. A SOFA mood, that's what I call it. My idea of ​​music is that of the sofa with a light, in the air, especially at night, with a starry sky, without artificial lights that deceive the human sight. Let's call it MoodsLines.
Anything else to add?
Without soul and without funk, you can't get anywhere.