Deconstructing Decon: incredible music from the not-so-ordinary corners of sound.
Those amicable friends of yours and hip-hop connoisseurs straight outta StrettoBlaster are back with a new rollercoaster journey within the belly of yet another venerable Hip-Hop label. This time around, we bring you a New York-based indie label that had deep connections with the L.A.'s underground, but that also stretched out its reach from the home base in NY further on towards Canada: welcome to the label formerly known as Deconstruction Company, or Decon!
Starting from the end, cold rocking the mass appeal of Deconstruction Company.
For once, we are gonna start our tale from the very end of it. Yes, the word "end" applies to this label too. After all, if there is something sure and certain about many of the imprints we often explore, it is undoubtedly the mere fact that more or less all the good ones are cold and defunct, like Laura Palmer on that beach. Much like the entire "hip-hop culture", after all. Long live rap; so long, b-boys! You know the deal…
That said, as discomforting as this state of the arts might be, this time though the end is as similar to a happy ending as you can get in this industry. Merger: one of the main activities of this crepuscular capitalism. In fact, the Decon creative firm, of which the record label was originally the main branch, officially ceased to exist in 2013, when the brand merged with the back-then recently revamped multimedia company known as Mass Appeal. Not bad, after all, isn't it?
From that point on, the discographic output belongs to a different label, but that of Decon, even before the year 2013, was a history made of great albums and talented artists, worth digging up and listening to. And, we might add, in a sense, it was a successful history too.
The last few years of the label were in fact dotted with a plethora of records that achieved a great deal of success in the underground, from the highly anticipated "Reloaded", the sophomore album by Roc Marciano, which over the years has become a true emblem of a renewed street hustler imagery, to the records made by Gangrene, the supergroup consisting of The Alchemist and Oh No.
Decon is the creative agency behind the last decade's hip-hop visual renaissance and large corporate brands' takeover alike…
In 2013, Decon Records was listed as one of Billboard's 50 Best Independent Labels in America, despite having only modest record sales. In fact, what became more and more important (and remunerative) was the creative agency for brands like Rockstar Games or Visa. The army of editors and video directors led by multi-talented Jason Goldwatch (Decon co-founder and music video director himself) became the centre of the expansive energy of the company, and the lung breathing life inside Decon's balance sheet, possibly.
As a boutique company firmly connected with a niche music market, as well as with several underground and even less-than-underground producers and rappers, Decon provided big brands with access to the otherwise hardly seizable heritage of (sub)cultural references and street-related experiences. The creation of content for the industrial production of commodities and for the marketing-driven exchange thus became the new frontier to be definitively mastered, with the only prerequisite to being equipped with the right language to reach wider market sectors.
This way, many big brands tried and fully succeeded, albeit at first still indirectly, to exploit urban culture, to the point of incorporating it and, later on, directly mass-producing it, as it would become more and more common in the following ten years. Emblematic is the case of sportswear brands like Nike or Adidas, transformed into fashionable, "affordable luxury" items. The same happened to what we used to know as "streetwear". If it ever had a progressive tendency (and I personally doubt it), we could say that this so-called urban culture, initially strongly linked to Hip Hop, underwent a kind of detournement.
From "Independent as Fuck" to "Fuck independence", via Visa. Nothing new, but pretty much the entire history of Hip Hop in pills. The time was ripe for Decon to make the big leap forward, and the merger into the Mass Appeal brand maintained the street patina while allowing them to play at other levels, where marketing is everything and talent is measured in revenues and profits for the shareholders.
But if this is the end, every story needs a beginning. A typically postmodern and very, very American beginning. Ah, someone will say, there it is, the "f*%#$=ing". In fact, this sceptic attitude is particularly spot-on here…
One Big Trip: how a documentary sparked the life at the beginning of Decon in 2001.
Let's take a more than ten years step backwards. 2001: Peter Bittenbender and Jason Goldwach, as young filmmakers and future CEO and creative video director of Decon respectively, alongside other friends, decided to shoot a documentary called "One Big Trip".
You can still find the review at Filmthreat, but I'll borrow a couple of lines from them, just to give you all a solid starter: "One Big Trip is like that drunken video you make with your friends, then watch the next day and question what the hell you were thinking". Capiche?
Top-notch music from both Coasts: how Decon built a monster roster from NY to LA.
Despite the heavily drug-induced shenanigans made by those five White and probably well-off filmmaking students, the soundtrack of that documentary had the who's who of the West Coast hip-hop underground scene on it, centred on the Hieroglyphics crew. In fact, the very first 12-inch made by Decon (back then still Deconstruction Company), was produced with the Hiero Imperium, Hieroglyphics' own label.
So, Fortes Fortuna (ad)iuvat? Or more like fortuna favet fatuis? A little bit of bot, probably. However, what interests us here is the quality of the releases, and on this front we have not, it must be admitted, encountered any disappointment: Decon's music is often top-notch, despite being probably a bit strange for a regular New York-centric ear.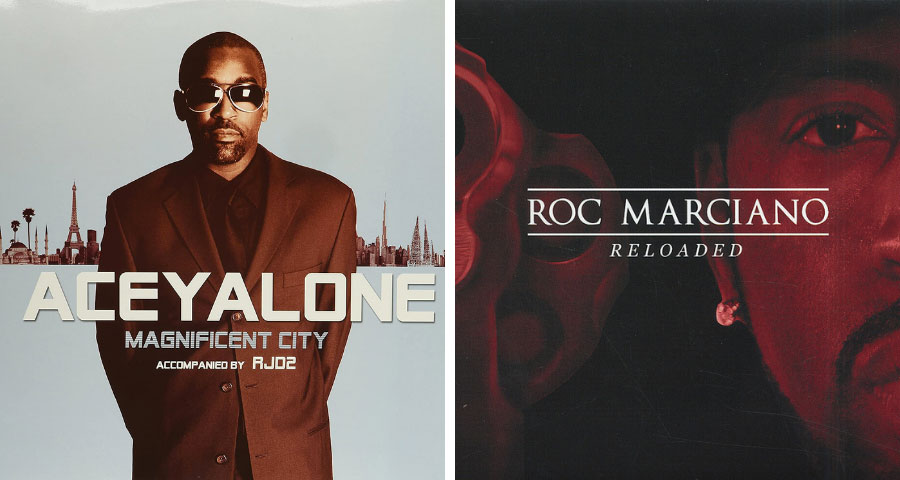 From that point on, the label went knee-deep in the underground, especially the L.A. one. In fact, for more than a half of its life, Decon published almost exclusively artists from L.A., linking itself tightly at first with that amazing and exquisitely Hip Hop endeavour, half open-mic workshop, half underground hip hop crew, called Project Blowed.
Decon helped come to light several compilations collecting the entire line-up of artists gravitating around Project Blowed, albums like "Project Blowed 10th Anniversary" or "CaliComm 2004". Almost everyone worth listening to in L.A. and surroundings could be found inside those compilations, from Del Tha Funkee Homosapien to Zion I to many, many others.
Moreover, almost the entire discography of Aceyalone was published through Decon, with mayhap some of the best Ace' albums being given the necessary push, to reach strong worldwide attention and an almost cult status within the underground of those years. The spotlight here still is on his album with RJD2, probably the last before the descending parable of this marvellous producer.
The label definitely ended up hosting a multifaceted pool of talents, from Dilated Peoples to Chali 2Na, down to the more obscure California-based underground veteran Ellay Khule, the back then little known Boldy James, as well as to the old school supergroup par excellence, Freestyle Fellowship.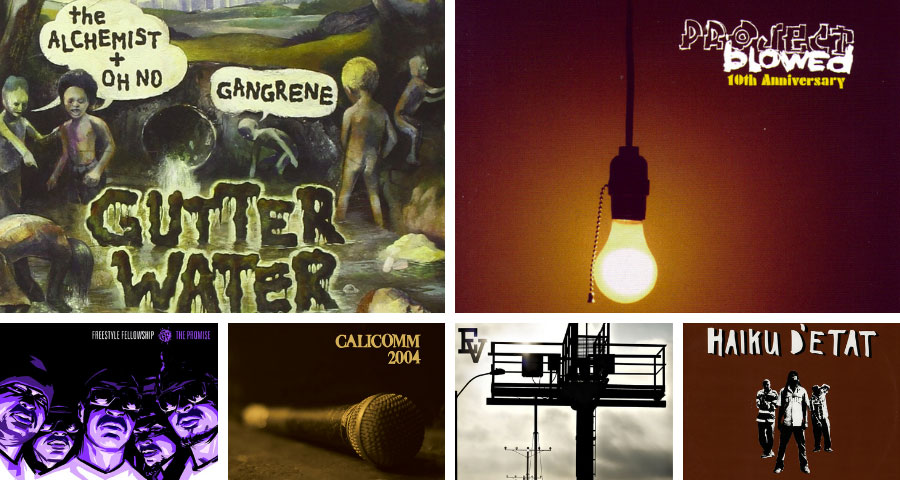 Decon's merger halted a string of successful records made by Alchemist and Oh No's creature, Gangrene, so it came when the label was still at the peak of its ability to unearth good music. A different story kicked off, which is going to need more time to be worth telling (and to be honest, as of today, Mass Appeal as a label is simply not worth it).
This mixtape, the last in our oh-not-so-long (but we will get there) feature about HH labels, like those dedicated to Good Vibe Recordings or Ill Boogie Records just to name a few, is once again compiled by yours truly, 2Mave from the Concrete Jungle Crew, while that refined aesthete that goes under the name of Dj Pio has taken care of the mix, mercilessly spinning those turntables to donate mellow but precise transitions and scratches.
Enjoy the tracklist and best regards y'all!
Decon Tribute Mixtape: The Blast Podcast #139
A musical selection by TwoMave mixed and recorded by DJ Pio
01 Live @ The Blowed – Customer Service
02 Mike, Aaron and Eddie – Haiku D'Etat
03 The Release Party – Dilated Peoples
04 Give Me a Reason – Boldy James feat. Vince Staples
05 20 Guns – Roc Marciano
06 Nobody (Recoil Remix) – Notes To Self feat. Evidence
07 Step 2 The Side – Freestyle Fellowship
08 Overdose – Gangrene
09 The Odditorium – Gangrene
10 Vodka & Ayahuasca – Gangrene
11 Human Nature (Now Breathe) – Rakaa feat. KRS One
12 Grand Imperial – Aceyalone
13 Comin' Thru – Chali 2na
14 The Burning Bush – 88-Keys feat. Redman