Biga aka Francesco Bigazzi: a lotta soul in the trunk.
It's no secret, the Italian beat-making scene has been in full bloom for some time now – almost ten years. And since the beginning, one of the strongest squares in such flourishing is the charming town of Florence, what some of our peeps jokingly used to call "the Italian Detroit".
Not for the engines, but for the strength of soul music so dear to many of the protagonists of the city vibrating underground. Reppin' Florence and its burgeoning soul, today we have with us the artist known as Biga, aka El Climatico.
Half of the underground electronic duo Ether, alongside partner in crimes Colossius, part of the infamous Ragnampiza Crew (shout out Duccio, Tommy and Bubu)  Biga is a well-known crate-digger, a deejay and eclectic producer, able to switch from boom-bap infused sounds to electronic music effortlessly. He's an artist as talented as he is elusive to easy labels, a rare example of versatile creativity, regardless of the instrument.
As he recently dropped a new album titled "Intervalli e Paesaggi", as the first volume of Moderna Sonorizzazioni, a series of albums inspired by Library Music via Francesco Fisotti's own QuattroBambole label, we've jumped on the opportunity to have a proper chat with the man of the hour.
We have discussed our main passion, music production, plus crate digging and creating soundtracks for imaginary movies, private documentaries and unreleased TV series. If you feel the vibe, there's a dope vinyl release too for your crates, so…you already know the deal.
Enjoy the reading, folks.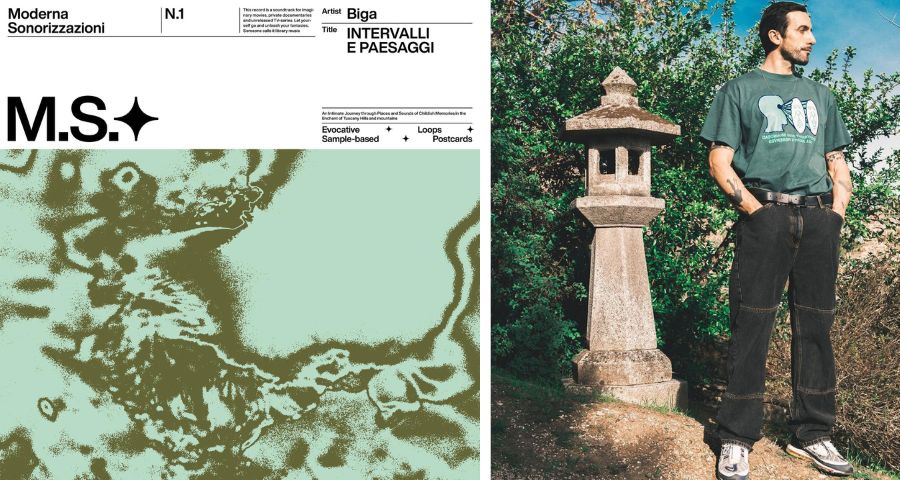 Biga, a quick introduction: what would you tell about yourself to someone who never heard about you or your music?
Well, wait for it a second…what could I tell…it's a difficult question…(laughs). I'm a deejay and beatmaker from Florence, but if you want me to say something on a deeper level, on a more intimate tip, let's just say that I'm a disturbing element since the mid-Nineties, born in 1980, and I'm on the Autentica label rooster.
I come from the school of legendary rapper and producer Dre Love, I grew up in South Florence close to CPA's Viale Giannotti (author's note: CPA is a community centre, very active for underground music and counterculture production in Italy since the late Seventies), and I have had an infinite love for soul music and fat grooves since I was a child. That's the truth.
Wait for a second: what do you mean by "disturbing element"? Why do you say so?
LOL, it's just a funny way to describe what I do…I try to go beyond a simple definition, and as clubbing is very limited as of now in Italy and especially in Florence, for both political and civil reasons, being a deejay means disturbing the stat quo and the quiet, well…that's what I am! (laughs)
Okay, I see…Tracing back the roots of your sound, what was the first beat that you've placed or sold on a record at a commercial level?
My first production placed on a record was with the Ether project released in 2006, entitled Intimo Personelles, for the Mousikelab of the mythological Retina.it and Marco Messina, the piece was called Shinobile Mas. It was a real satisfaction, one of the first things I did with Ableton Live, version 4, and it quite represents the sound I had at that time, much darker than the previous and the current one, thinking about it in hindsight, I don't identify with it at all but it is a mirror of how I felt at that time, dimmerda, it happens.
The musical research of Biga: from crate-digging to Library Music.
How long did it take you to produce something you were proud of?
I would say that the first production that fully identifies me was the one I did for Beat a Confronto on Ragnampiza.net, it took me a while, but it was and still is very consistent with my taste, with what I have listened to, absorbed, and devoured in those years, around 2011. The meeting with Brazilian music was fundamental, my two-week trip to buy records between Sao Paulo and Rio a real delirium, the discovery of the producers there who inspired me a lot, especially Parteum, a Paulistano artist.
In Beat a Confronto there are also reworkings of classics that I have loved for years, stuff sampled in the 90s but that I have reinterpreted in my own way, and for all these reasons this has remained the release I was most fond of for many years. Another project that represents me a lot in many of my nuances is Quesse Beige, a solo self-produced album from 2020. These two are my favourite joints, the ones with the purest and most sincere inspiration, and when it happens it's really moving.
The same thing also happened to me with a mixtape – I love mixtapes, and I adore them, they are largely underrated despite the productions, in general, but I always put my soul into them. What I'm referring to here is a mixtape called El Climatico, it was the soundtrack of the birth of my son, a true story!
What is your production setup to this day? And what would you like to use or explore? 
Back in the day, I used a lot of Ableton Live and a Roland SP-303. These days, I work almost exclusively using Serato Studio, but I still have Ableton Live and Akai MPC Live. My favourite setup is probably the actual one I use. So happy with it.
Sometimes I feel like I would like to go back to using drum machines like Pete Rock, DJ Premier, DJ Muggs, and all my childhood idols used to do. During Covid I studied and reproduced a lot of old-school production, to try them, not merely to emulate a process, but in terms to study different techniques. For the average Italian person, music study is something different and it's very difficult to fully seize the magic behind the rhythm.
Soul, groovy Black music and Urban, in general, are an imported culture to us and they're not yet rooted here as cooking may be, for instance. It was a learning experience, aligned with my martial art studies, to re-imagine and understand the learning process and rhythmic development.
You're quite known for crate-digging: do you still hit the crates for inspiration?
Sure, I still dig, but I don't dig often in Italy. Barcelona and Paris at the moment are my favourite spots, and recently I've also got in touch with a quite renowned record seller such as Viktor Kiswell. He's from Paris but he lives in Barça, and he's the same man who provided the crazy French records and samples to Madlib, just to give you an idea. He has tons of records I love, especially French libraries and obscure funk and prog-rock groups. I've gotten into Baltic and Russian libraries through his research, and he's also very strong in Middle-Eastern/Lebanese sounds and under-the-radar Arabic music. Incredible guy, with great taste in music and records.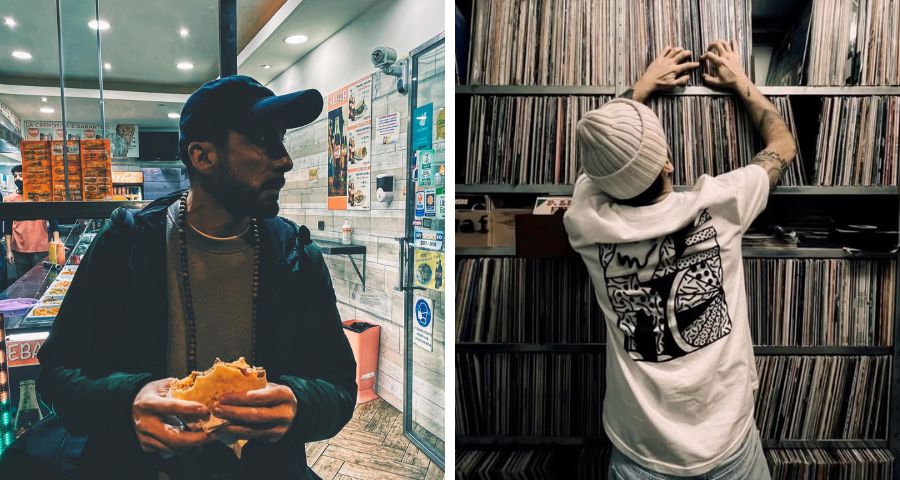 Best digging advice ever received?
More than advice, stories and places I went for digging…An absurd place in the favela of Sao Paulo, which is bad, I went kamikaze with 2000€ in my balls…these are two apartments completely full of records, while another hallucinatory spot was in Bogotà, a shop three-story shoe store with tons of vinyl. Barranquilla, Colombia, was also crazy. Check for a spot called Discolombia, and you'll know the deal…anyway, consider these as tips for your international travels.
Is there a producer who in the last 3 months made you say "Oh, shit! Gotta go back to the lab!"?
Ahah…well, tough one…but I am always in the lab, anyway! (laughs) There are too many people inspiring me, I could drop a long list of names. Alchemist, for sure, is one of the inspirations I could name. I've enrolled in one of his masterclasses recently, and he was crazy slick on the MPC, but working with old-school drum machines is a different game, and it's too expensive in terms of hardware, to be honest. It's more expensive to use vintage gear than last-generation gear…
Your worst production mistake?
The worst error is probably having started making beats in a very spontaneous and intuitive way, without studying the real foundations of the beat-making discipline. It is a good thing on one hand, as I was basically watching Dre Love on the MPC on a daily basis, but on the other hand, to perfect your sound and signature you need to understand and practise the foundation of art. Studying but also practising.
It is like martial arts: if you spend time watching the master kicking, instead of trying your own kicks, you won't get in full swing. I've spent more time digging for records and sounds, than practising on a drum machine, because I didn't have one at that time…but hey, it is what it is, everyone has a different path. I was too shy in the beginning maybe, but it's okay…I'm trying to go ahead now. And I kick a lot more. (laughs)
An essential mixing tip from your learning experience?
Do not overwork your stuff in post-production when mixing it. A good mix starts with a good musical and sample selection. Before everything, make sure to pick the right elements to combine. It's like a cooking move: if your ingredients are good and match nicely with each other, you're very likely to have a fresh and tasty recipe at the end of the cooking process, isn't it?
Sure it is…and about cooking, and recipes, how would you describe what you've created in your latest effort, Intervalli & Paesaggi? Would you like to tell us a bit more about it?
It's been a beautiful journey, and a privilege to be the opening act of the newly launched Moderna Sonorizzazioni series from QuattroBambole. After almost five years of musical silence on my side, Francesco Fisotti has been kind enough to ask me to embark on this adventure, and I accepted the challenge immediately, it's been a no-brainer.
I was called to fit my productions in a certain form, in a proper library context, and I kinda put myself and my art at the service of the cause, in a way. I was curious and excited to see how my music would have complimented the "old-fashioned" Italian library brief I'd received. I knew I could do it, and it's been very fun.
Finally, if you think about it, it has been more or less the same process that the real old-school maestros were doing back then. Not that I want to compare myself to them, let me be clear. But the mechanics are the same: they were interpreting a theme and putting directors' film scripts and suggestions in music often before watching the movie itself. Similarly, there's no movie here, but you are the director and your private life and imagination are the proper set.
You're super busy with tons of different projects as of now: what do you have in the making?
I will drop an EP produced for rapper Ganji Killah, and more productions coming with rappers Kazawi and Creep Giuliano. I have an instrumental album to be out on Ragoo Records, label from Bologna/Rome, with a bunch of remixes from many Italian hot producers.
Another instrumental album for Fresh-Yo Label will be released on cassette tapes in a super limited edition with the incredible art of Meriah Weasley (be sure to cop one), and a split-tape with my fellow beat-maker Odeeno is in the pipeline too.
Your last words: a message to the nation?
Let's save Tony Orlando's house!